Pettable vs. CertaPet: Online ESA Letter Services Review
For many individuals with a mental or emotional disability, an emotional support animal (ESA) can be life-changing. Emotional support animals can provide affection, comfort, and companionship for individuals who suffer from illnesses such as depression, anxiety, and post-traumatic stress disorder. To legally acquire and own an emotional support dog, handlers only need to obtain one…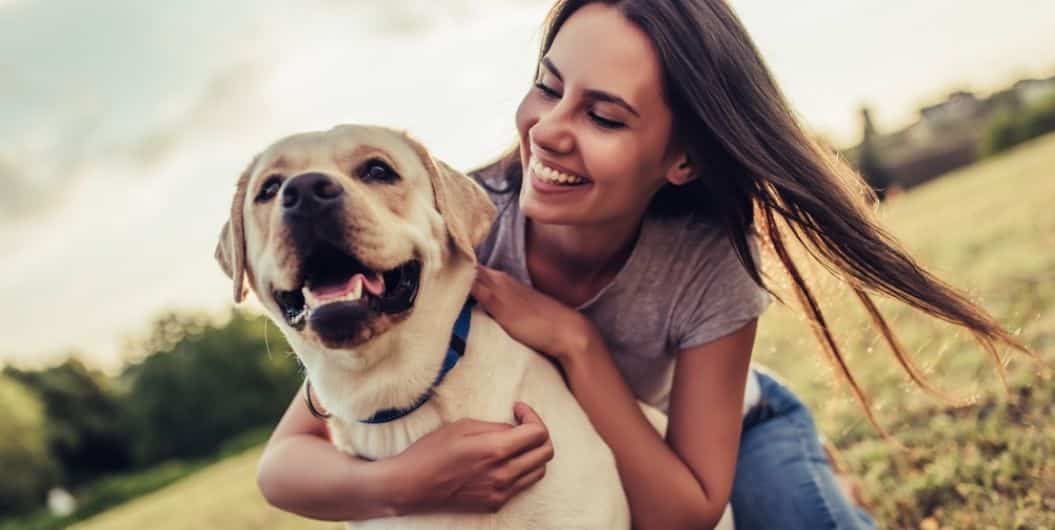 For many individuals with a mental or emotional disability, an emotional support animal (ESA) can be life-changing. Emotional support animals can provide affection, comfort, and companionship for individuals who suffer from illnesses such as depression, anxiety, and post-traumatic stress disorder. To legally acquire and own an emotional support dog, handlers only need to obtain one legal document: an emotional support animal letter. 
While ESA Letters can be written and provided by any licensed mental health professional (LMHP) or licensed therapist, they can also be obtained through services online. Particularly over the last few years, more and more people have been turning to convenient, affordable, and easy-to-use online services to obtain the documentation they need to live with their emotional support animal. That said, some ESA letter providers are certainly better than others. Below we will be taking a closer look at two of the top emotional support animal letters on the market: Pettable and CertaPet. In this Pettable review and CertaPet review, we will evaluate the strengths and weaknesses of each service. 
Who is Pettable?
Strong legal support? Quick ESA Letter turnaround? Compliant with state and federal regulations? Check, check, and check. Endorsed by USA Today, NBC, Fox, and CBS, Pettable is a legitimate company that meets all of the criteria when it comes to an ESA Letter service. Founded by animal lovers, Pettable's number one priority is helping its clients get the emotional pet support and help they need from assistance animals. The best part? Pettable will make this process as easy and stress-free as possible for you if you choose to opt for their services.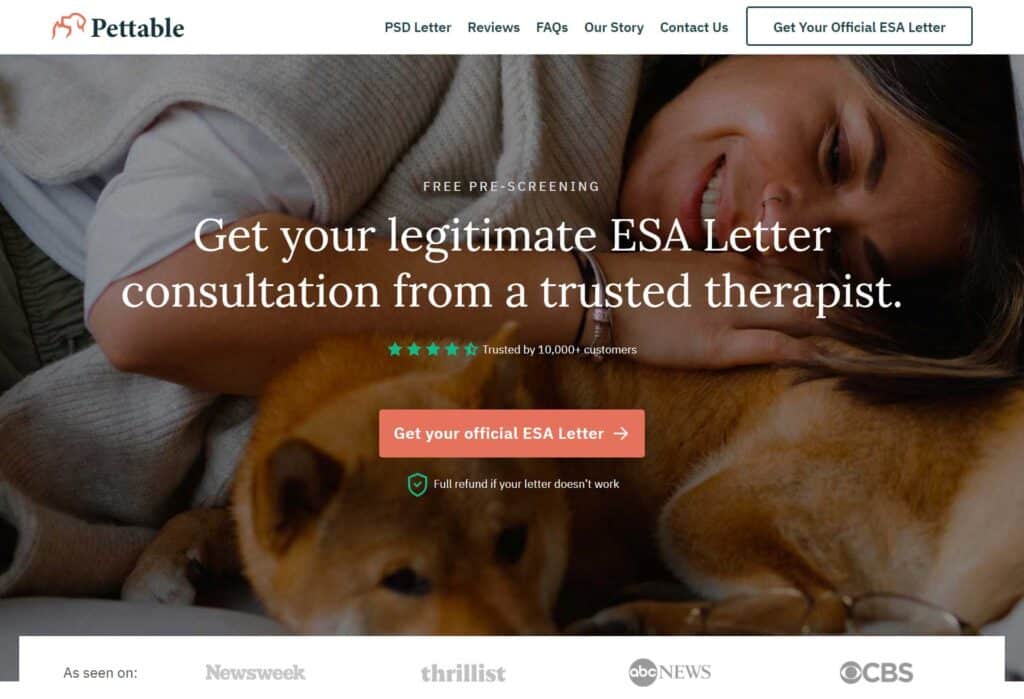 Clients will begin their ESA application process online, where they will fill out a short, 3-minute questionnaire. Once the questionnaire has been submitted, they will be matched with a licensed mental health professional in Pettable's network. Pettable is fully compliant with both federal and state laws and has licensed therapists in every state across the country. After forming a mental health diagnosis, clients will receive their emotional support animal letter if they are qualified. If you're short on time, Pettable has a very impressive turnaround time for their ESA Letters. This service can also provide you with an ESA Letter as quickly as 24 hours if you pay a little bit extra. If you do not qualify for an emotional support letter, Pettable will provide you with a full refund, no questions asked. 
Pettable's team of legal experts is just the cherry on top of the cake. There are a lot of laws and rights surrounding ESAs and their handlers. If you don't know all of them, Pettable will do the heavy lifting for you and ensure you are getting the treatment you deserve. For example, under the Fair Housing Act, ESA handlers should not be paying pet deposits, pet rent, or any pet fees for their assistance animal. Pettable's team will even go so far as to speak with your landlord if necessary.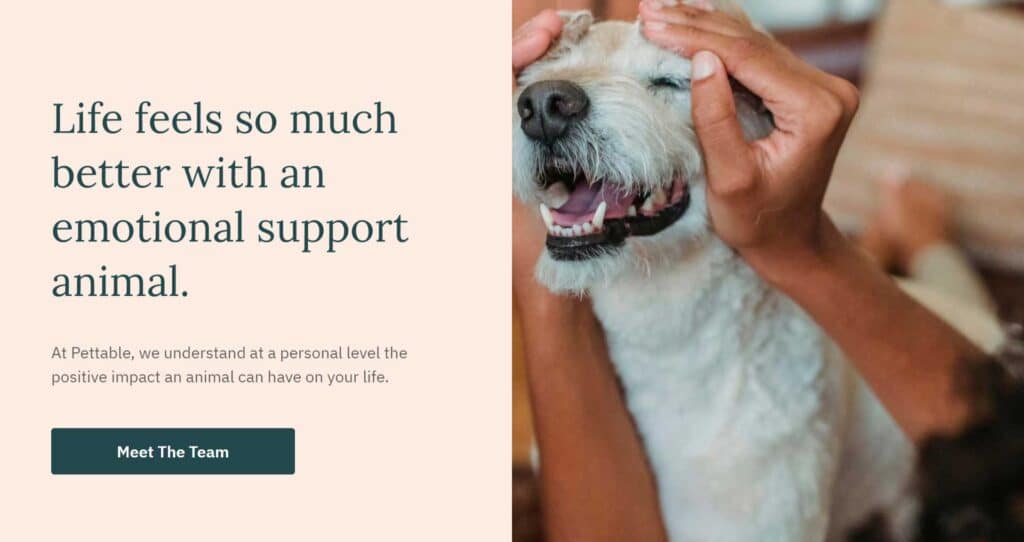 Pros:
Clients will receive a full refund if they don't qualify for an emotional support animal
Pettable has a strong and devoted customer support team full of legal experts
There's no extra charge if you have multiple therapy animals
Customers have an option to choose an express 24-hour turnaround time
Services are fully compliant with federal law and can be used in every state in the country, as well as in Puerto Rico
Cons:
Clients must pay extra for express 24-hour turnaround time
Bottom Line: As a company founded by animal owners and lovers, Pettable goes above and beyond for its clients. Pettable will ensure that its clients receive their ESA Letter as fast as possible, have the legal support they require in times of trouble and receive a full refund if they end up not qualifying for an ESA Letter. 
Who is CertaPet?
CertaPet is another legitimate ESA Letter provider that you can trust. Established in 2018, CertaPet is fairly new to the ESA Letter market but has established a reliable reputation for itself ever since. Endorsed by Entrepreneur Magazine, Forbes, and Fox, this service has helped over 65,000 customers since its conception.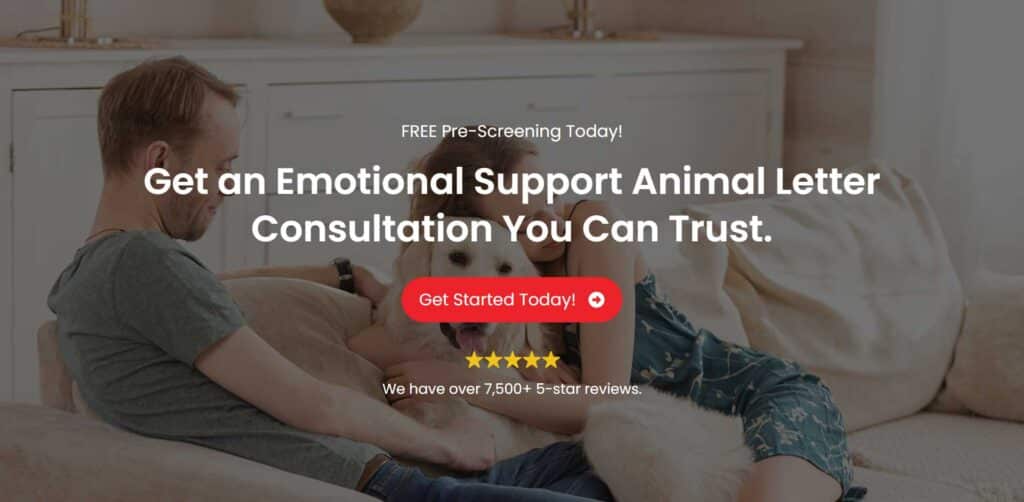 CertaPet's online process is easy to navigate. Clients will start by completing a 5-minute pre-screening, before consulting with one of many independent mental health professionals in CertaPet's network. It's important to remember that not everyone will qualify for an emotional support animal. Just because you are paying for a service, does not mean that this service is obligated to write you an ESA Letter — that would be against the law and would mean that the company is illegitimate. Clients should know that if you opt for CertaPet's services, you will not receive a full refund if you do not qualify for an ESA. CertaPet will provide you with a partial refund, but clients must always pay a $35 consultation fee for their therapist evaluation. If you are qualified for an ESA, you will receive your letter through CertaPet's online portal. 
CertaPet also has a reliable customer service team that is willing to provide customers with help and assistance even after they have received their ESA Letters. Be aware that CertaPet's information does contain outdated information. CertaPet's official site implies that ESA owners are still granted special airline privileges. However, the Air Carrier Access Act was altered in 2021, and under this act, emotional support animals are no longer considered service animals.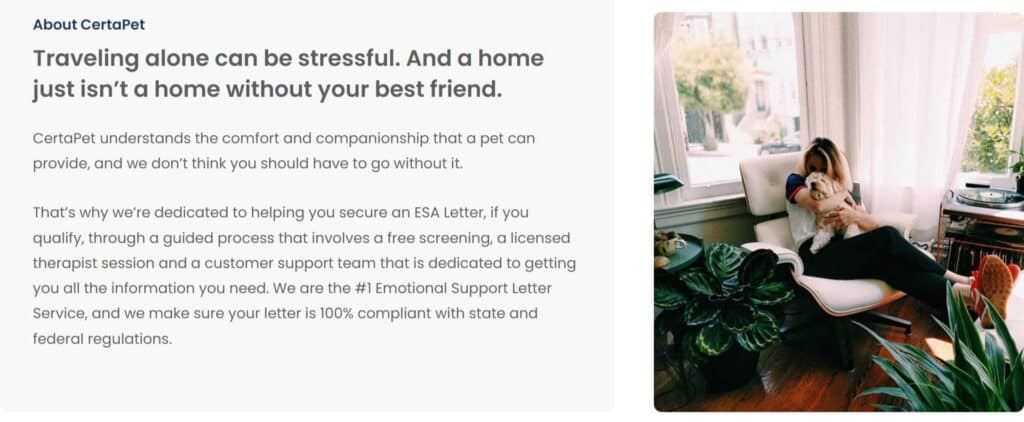 Pros:
CertaPet provides a fast turnaround for ESA letters
The customer service team is willing to help clients after they receive their ESA Letters
CertaPet offers different types of consultations including one for an emotional support animal and a psychiatric service dog
Cons:
The website is out of date and includes unreliable information
Clients will only receive a partial refund if they are not qualified for an emotional support animal
CertaPet's services are relatively expensive compared to other ESA Letter providers
Bottom Line: There are so many things to love about CertaPet's services from their fast turnaround to their dedicated customer support team. However, clients must be willing to accept that they will only receive a partial refund if they don't qualify for an emotional support animal
Rating Factors
When it comes to ESA Letter providers, there are a lot of important criteria. Clients don't just want fast turnaround, legitimate service, a reliable website, great licensed mental health professionals, and a devoted customer service team, but preferably, all of the above. Let's take a closer look at each one of these factors for Pettable and CertaPet. 
Legitimacy
At the bare minimum, you need your ESA Service Provider to be a legitimate service. There's a strong chance that your landlord or building owner will check the validity of your ESA Letter and the therapist who wrote the letter. If your ESA letter is from an illegitimate service, your ESA will most likely be denied housing, and all of your money, time, and effort will be thrown out the window. 
As it happens, both CertaPet and Pettable are accredited and legitimate businesses. A good way to double-check this information yourself is to search for a business on Better Business Bureau (BBB). If the business has been accredited by the BBB, you will know for certain that this is a business that you can trust. 
Customer Service
Pettable's customer service team is one of the company's greatest strengths. Firstly, this ESA provider's customer service team is readily and conveniently available through phone or live chat. If you have a quick question about the company's service team, simply go on to their website and a live chat box will appear. In terms of particular requests, Pettable's team boasts an impressive 22 hour turnaround time. Their top-notch team is also filled with legal experts, who are well-versed in ESA laws and the rights of ESA handlers. If you experience any issues with a landlord or building owner, Pettable's team is happy to speak to these individuals on your behalf. 
CertaPet also has a devoted customer service team that is willing to go the extra mile for their clients. Similar to Pettable, CertaPet is also willing to dedicate its services to clients even after a client has received their ESA Letter. 
Turnaround Time
Pettable clients have the option to choose between three different turnaround times. Clients can choose to receive their letter either within 24 hours, 1-3 business ways, or 1 week. 
CertaPet clients will usually receive their ESA Letters within 2 business days. If you choose to have your letter mailed to you, this will typically take 2-3 business days. 
Reliability
As anyone with an emotional support animal knows ESA laws are constantly changing, especially in recent years. Therefore, it's more important than ever for ESA-focused companies to stay up to date on new information regarding the Fair Housing Act, the diagnostic and statistical manual, medical or psychological advice, mental or emotional disabilities, emotional support animals, and psychiatric service dogs, and more. Pettable's company and website are very on top of new policies, rules, and regulations. Not only are their emotional support animal travel policies up to date, but so are their state-specific laws. 
One of our biggest concerns about CertaPet is that they still advertise that emotional support animals can fly on planes, which is no longer the case. If any website or company tries to promote or sell you ESA Letters for travel or airplanes, know that these no longer exist and not to purchase these packages. 
Licensed Medical Professional
During your evaluation with a mental health professional, you will want to ensure that your LMHP is a therapist located in your state. Pettable is fully compliant with federal and state laws with therapists in every state across the country. To top that off, Pettable is very selective during the hiring process of their LMHPs. Therapists must complete a thorough background check and undergo a rigorous training before they are officially a part of the Pettable team. 
Similar to Pettable, CertaPet also has licensed mental health professionals in every state across the country. This means this company is also fully compliant with federal and state laws. If you suffer from a mental illness or a mental health disability but do not qualify for an emotional support animal, CertaPet will do its best to recommend other treatments for your emotional disability or mental disability.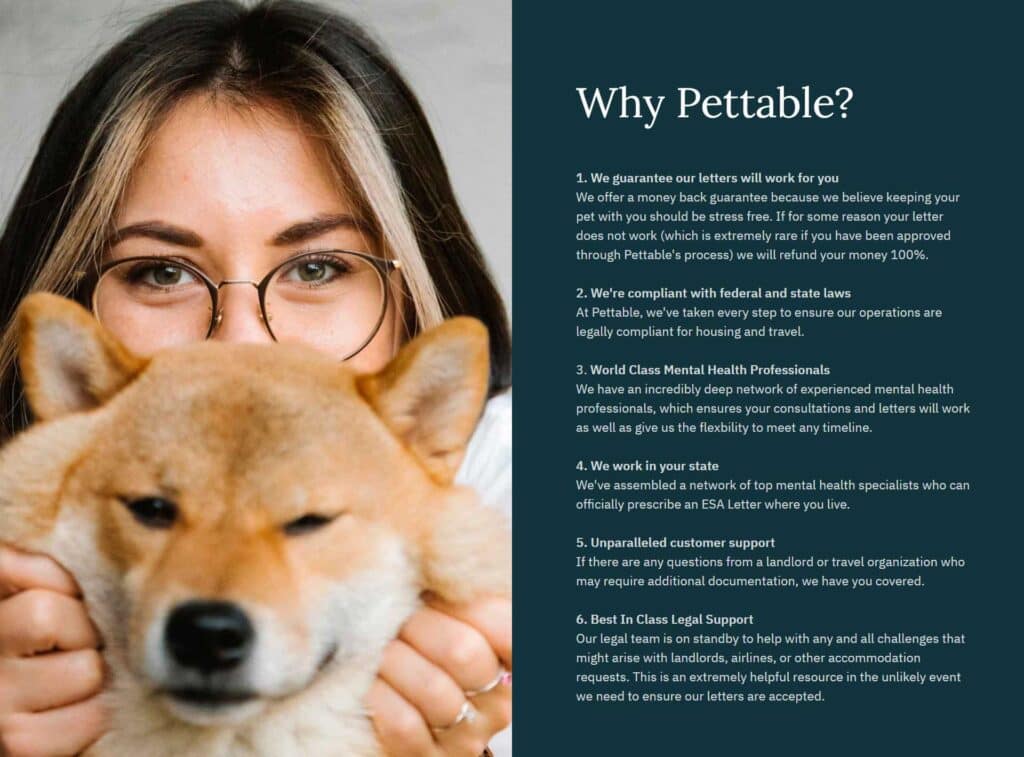 Why we recommend Pettable
When it comes to legitimacy, turnaround time, customer service, and licensed mental health professionals, Pettable and CertaPet are both top-notch ESA services. However, in the race between the two, Pettable slowly pulls ahead for several reasons. Pettable's services are 100% risk-free due to its full money-back guarantee, while CertaPet requires a $35 consultation fee. Having that peace of mind of a full money-back guarantee when opting for a service goes a long way. To top that off, CertaPet's website is slightly out of date, which is slightly disconcerting. When something as important as living with your ESA is on the line, you want to ensure that a company is fully aware of changing rules and regulations as these changes occur.
Psychiatric Service Dog Letters 
Emotional support dog letters are different from psychiatric service dog letters. Despite having a similar bottom line which entails the overall therapeutic betterment of an individual mentally and emotionally, psychiatric service dogs go the extra mile.
What is a Psychiatric Service Dog?
A psychiatric service dog, sometimes referred to as a psychiatric assistance dog, is a dog trained to assist an individual coping with a wide array of mental disorders. Despite emotional distress falling under mental disorders, psychiatric dogs tend to deviate toward mental illnesses with a pathological point of view.
Patients that benefit more from psychiatric service dogs are those with schizophrenia, dementia, obsessive-compulsive disorders, depression, anxiety, post-traumatic stress disorders and bipolar disorder, to mention a few.
Psychiatric Service Dogs vs. Emotional Support Dogs
Many people have emotional support animals for mental health conditions, but what sets a psychiatric service dog apart?
Training
Like every other service dog approved by the ADA, psychiatric service dogs assist individuals with a specific mental condition by carrying out particular tasks. A psychiatric service dog, for example, will scan a room for potential threats to alleviate anxiety in a patient with post-traumatic stress disorder.
To qualify as a service dog, a dog must be trained specifically for an intended mental disorder. On the other hand, emotional support animals do not require special training. In this light, a dog that helps a blind person navigate obstacles is a psychiatric service dog, while one that aids a patient cope with stress is an emotional support dog. 
Legal Responsibility
Unlike emotional support animals, psychiatric service dogs are fully-fledged service dogs. Under federal law, people with psychiatric assistance dogs are free from certain obligations, and their dogs have access to social amenities such as theaters, schools, hospitals, and schools. These locations are obliged to facilitate the dogs and their owners. 
On the other hand, emotional support animals do not enjoy these privileges. State laws mainly govern their legislation, and their access to social spaces is somewhat limited compared to psychiatric assistance dogs.
Pettable vs CertaPet: Psychiatric Service Dog Letters
Pettable has provisions for people looking for psychiatric service dogs. Through the same procedure of answering a short quiz and then getting a telehealth appointment with a licensed mental health practitioner, you set the ball rolling towards getting your psychiatric assistance dog.
With Pettable, the fees are paid upfront, whether for emotional support animals or psychiatric service dogs. Still, you can rest assured that you are in safe hands with their money-back guarantee if or when you fail to qualify for a psychiatric service dog. Pettable offers legitimate psychiatric service dog letters that are valid and compliant with state and federal laws.
CertaPet, on the other hand, despite having service dog evaluations on their landing page, there is no mention of whether they provide psychiatric service dog letters. Similarly, there is no mention of their pricing options for PSD qualification evaluation. 
Federal Laws Related to Emotional Support Animals
Under federal law, specific legal provisions protect people with service dogs and emotional support animals, and these legislations fall under housing and transportation. As earlier mentioned, both Pettable and CertaPet have a dedicated customer service team that familiarizes you with these exemptions and advocates for your full benefit from landlords and airlines. 
Flying
Under the Federal Air Carrier Access Act (ACAA), service dogs are treated differently from other pets, and their owners do not have to pay additional charges for their assistance animals. In 2021, the transportation department introduced an amendment in the law that legally recognizes psychiatric service dogs as service dogs.
This amendment implied that people with PSDs can now enjoy the same flight exemptions as their counterparts with service dogs. However, this is not the same for emotional support dogs. It is, however, not smooth sailing for PSDs, and owners need to have unique letters from dog handlers that guarantee the good behavior of their dogs, among other requirements.
Emotional support dogs under the amendment by the DOT now fall under the same classification as other pets. This means owners must pay additional pet charges with their airlines when flying.
Housing
The Fair Housing Act allows owners to keep their emotional support animals in housing that would otherwise restrict the keeping of pets. In addition to this, they are also free from paying additional pet fees when applicable.