What are Some Tips for Boating with Dogs?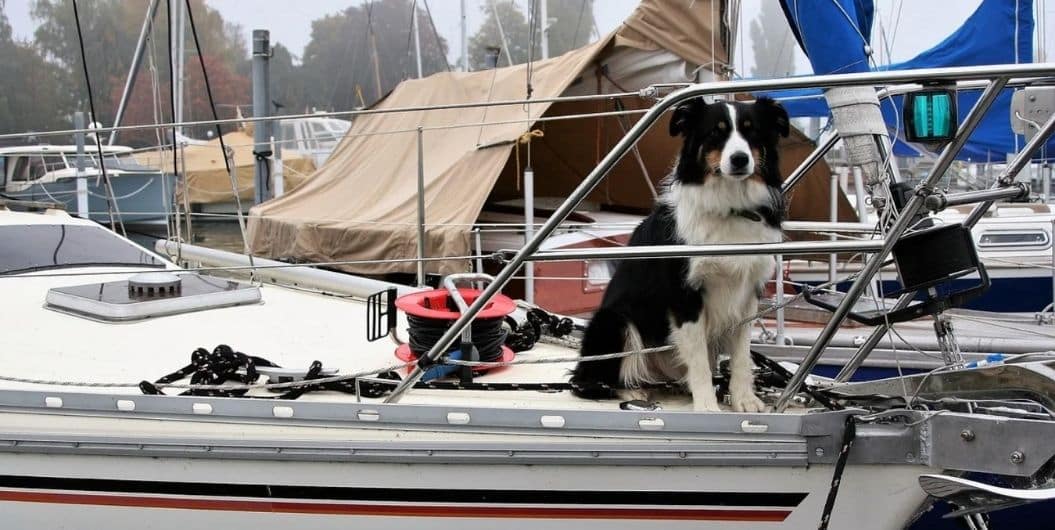 Boating with dogs can be a lot of fun. Most dogs are quite adaptable to life at sea and many really enjoy the experience. A few pointers that relate to your canine companion's safety and comfort on board can make boating with dogs a pleasant activity.
Allow your dog to get used to the boat and marina.
The smells, sights and sounds of any new area can sometimes be overwhelming for dogs. Before actually boating with dogs, it's a good idea to prepare them for life at sea by first letting your dog experience the marina and the docked boat. The sound of the boat's motor may frighten some dogs, so introducing the dog to life on board gradually usually helps.
Check ahead for dog-friendly parks and marinas.
Call or email ahead to your planned stops to see whether they permit dogs or not. Make sure you have at least one strong leash on the boat. A hook designated for holding the leash when it's not in use can save a lot of hassle searching the boat for it when it's time to dock at a marina.
Have proper identification for your dog
Your dog should have an identification tag for his or her collar that includes a marina address, slip number and phone number. If you'll have a computer on board and the tag has room, you could also include your email address. When boating with dogs, you should also carry proof of your dog's vaccinations, just in case.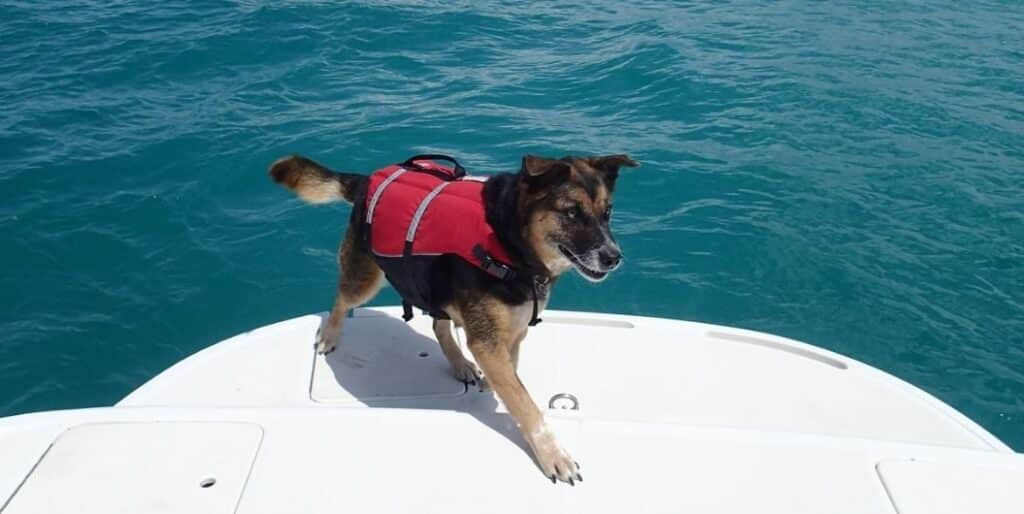 Have everything you need for your dog on board.
Life vest — Even if your dog is a great swimmer, if he or she accidentally falls into the water this can cause the dog to panic and waste energy. A fatigued dog cannot swim as well. Plus, the life vest will make the dog easier to spot in the water and easier to lift to rescue. Before you go boating with dogs, put the vest on them on land and then let them try swimming with the vest on. Use a reward system such as giving them dog treats when they successfully resist trying to scratch or bite the vest off.
Blanket or towels on deck — Boat decks can become very hot. Just as you need protection for the bottoms of your feet, make sure your dog has access to cool decks to walk on. Blankets or towels in the shade are essential items to have right on the deck when boating with dogs. Allow your dog access to the cabin to escape the heat.
Plenty of food and fresh drinking water — Especially in warm weather, your dog needs to be kept hydrated. Make sure to have a large supply of fresh drinking water for your dog. It's a good idea to offer your pet a good drink before he or she goes swimming as otherwise dogs may drink a lot of the sea water which could make them sick. Keep dry dog food in a waterproof plastic container and have a few extra cans of dog food on hand for emergencies.
Doggie potty — Doggie potties are available at pet stores. Some look like a patch of grass. It's important to have a designated area for your dog's potty at sea. You don't want to find "surprises" all over the place when boating with dogs!